S2E47 - Waiting Impatiently for the Great Filter
S5E5: Shotseeker S5E6: A More Perfect Union S5E7: QSO
6 months ago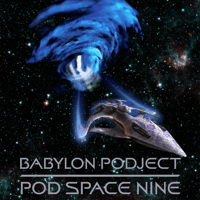 But first some B5 news.
Shotseeker: Yay Elias is not dead! John's love language is avenging your death. The only thing believable about this technology is that NYC would spend a staggering amount of money on it. This episode really doesn't work in the context of its airing time.
A More Perfect Union: The Great Filter? Shaw's still in a simulation, John's a stripper pimp, there's a wedding, root goes horseback riding. Meanwhile Fusco has to go to a tunnel full of corpses. Michael Emerson's Irish accent is... not good. Jarold shipping intensifies.
QSO: root dress-up episode! 4 Alarm Fire, the best tumblr tag. Our headcanon is that root could burn water. Jude goes on a Powerbar rant. Dollar Store Picardo.
Connect with the show at @babylonpodject
Help us keep the lights on via our Patreon!
Justen can be found at @justenwrites
Ana can be found at @The_Mianaai, and also made our show art.
Both Ana and Justen can also be found on The Compleat Discography, a Discworld re-read podcast.
Jude Vais can be found at @eremiticjude. His other work can be found at Athrabeth - a Tolkien Podcast and at Garbage of the Five Rings.
Clips from the original show remain copyrighted by their original rightsholders, and are used under the Fair Use doctrine.
Music is by Arne Parrott, who can be found at http://atptunes.com/
This show is edited and produced by Aaron Olson, who can be found at @urizenxvii