S2E44 - Welcome to the Machine
S4E21: Asylum S4E22: YHWH
7 months ago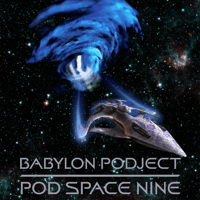 Asylum: Pneumatic tubes! Elias is classy during revenge, Martine dies a classless but perfect death. We doubt that Harold doesn't know what a pneumatic tube canister looks like. root's scene on the ledge is inteeeeense. If the bad guys don't have Fusco's kid he's functionally invincible.
YHWH: Fetch quests! Fax machines! Harold seeing the results of his efforts, in many ways. Many antagonists get wiped off the board. Tell the god you created that you love her now and then.
Connect with the show at @babylonpodject
Help us keep the lights on via our Patreon!
Justen can be found at @justenwrites
Ana can be found at @The_Mianaai, and also made our show art.
Both Ana and Justen can also be found on The Compleat Discography, a Discworld re-read podcast.
Jude Vais can be found at @eremiticjude. His other work can be found at Athrabeth - a Tolkien Podcast and at Garbage of the Five Rings.
Clips from the original show remain copyrighted by their original rightsholders, and are used under the Fair Use doctrine.
Music is by Arne Parrott, who can be found at http://atptunes.com/
This show is edited and produced by Aaron Olson, who can be found at @urizenxvii