BabPod SAG-AFTRA Statement
Please listen and read the show notes.
4 months ago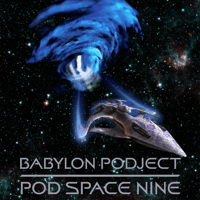 Hello, and welcome to the Babylon Podject. We are not talking about any episodes today, because earlier this week SAG-AFTRA released new guides to podcasters with relation to their strike. The guidelines for this rule defines rewatch podcasts as struck work. This is confusing because as both fanwork and critical content, we would not think this applies to us, but the wording of the statement does not include any exceptions. Another podcast shared communication with us from a SAG representative that states that the discussion of struck productions (including older shows like we cover here) is considered promotional and thus while we are not SAG-AFTRA members, promotional material would be considered scab work.
As we wish to show solidarity with both striking guilds, we encourage you to still enjoy watching and reading what you like, but any release of new episodes will have to avoid struck work until an equitable agreement is reached.
Where that leaves us is in a pickle. There's a number of things that we are excited about, and we have almost a dozen episodes in the can right now for our next series, but those will have to wait until we feel that releasing those episodes would not be a striking activity. Until then, we are going to get ~experimental~ and try covering some non-television and movie properties. We'll see how that goes, and hopefully we'll be back to doing our normal thing before I'm hate-reading bad Avengers comics.
So, until next time...we stand with SAG-AFTRA and the Writer's Guild...be seeing you. And if you want a taste of what we're doing next, here's the music for our next series…whenever that happens.
Music courtesy of audioquinn.