S2E41 - Faraday Cage Match
S4E15: Q&A S4E16: Blunt
8 months ago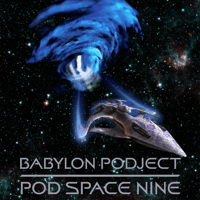 Justen describes, at length, a single player board game. There's probably at least 10% Person of Interest content in this episode, but no guarantees.
Q&A: Siri, MMA, and morgues. Claire returns. The stable of characters in PoI is huuuge. Any time Harold's computer gets stolen, we assume it's on purpose, like John getting into a garbage truck. Justen knows a surprising amount about MMA law. Jude brings in the OC, to Zathras' chagrin.
Blunt: Can't believe they didn't save this for Episode 20. We apparently stan a devious girl-criminal. If anyone's eligible for MMJ it's Harold. John has big cop energy. Zathras merges the timelines.
Connect with the show at @babylonpodject
Help us keep the lights on via our Patreon!
Justen can be found at @justenwrites
Ana can be found at @The_Mianaai, and also made our show art.
Both Ana and Justen can also be found on The Compleat Discography, a Discworld re-read podcast.
Jude Vais can be found at @eremiticjude. His other work can be found at Athrabeth - a Tolkien Podcast and at Garbage of the Five Rings.
Clips from the original show remain copyrighted by their original rightsholders, and are used under the Fair Use doctrine.
Music is by Arne Parrott, who can be found at http://atptunes.com/
This show is edited and produced by Aaron Olson, who can be found at @urizenxvii