S2E50 - Dashwood
S5E12 .EXE S5E13 Return Zero
6 months ago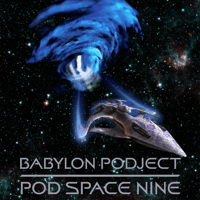 S5E12 .EXE
S5E13 Return Zero
A discussion of the principles of rewatches.
.EXE: It's A Wonderful Life time. Tesla dunking. Greer tries to convince Finch YET AGAIN that Samaritan is the right choice. Jude hates the locked room scene. Ana scores a prediction win.
Return Zero: What a series finale, especially considering their season order cut. Reese's long-standing deal (GNU Jarold). Shaw gets to be everything Team Machine wants her to be--but is still Shaw. Fusco knows how good he has become. It takes a cruise missile to take out John.
Show Wrap-up: How was Ana right about so much stuff? It's nice to remember a time when good writing rewarded you for being right.
Connect with the show at @babylonpodject
Help us keep the lights on via our Patreon!
Justen can be found at @justenwrites
Ana can be found at @The_Mianaai, and also made our show art.
Both Ana and Justen can also be found on The Compleat Discography, a Discworld re-read podcast.
Jude Vais can be found at @eremiticjude. His other work can be found at Athrabeth - a Tolkien Podcast and at Garbage of the Five Rings.
Clips from the original show remain copyrighted by their original rightsholders, and are used under the Fair Use doctrine.
Music is by Arne Parrott, who can be found at http://atptunes.com/
This show is edited and produced by Aaron Olson, who can be found at @urizenxvii