S3E3 - Dark John Crichton
Issue 5: Premise Rejection Issue 6: The Grind
1 month ago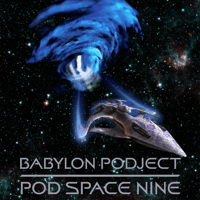 BabPod: DIE is a production of the Okay, So network.
Issue 5: Premise Rejection
Issue 6: The Grind
Premise Rejection: Humanitarian crises are a usual outcome of RPG parties, right? Jude gives The Orc Speech. Who made DIE? Ash has... vibes. Sol's character would be really annoying. Don't be Sol as a GM.
The Grind: Dragons, war machines, what's the difference. All the characters are damaged in ways unrelated to their prior experience in DIE. Some interiority shift! If the consequences are real but the actions aren't, what does that mean? A long diversion into what a meaningful choice in a game even is.
Connect with the show at @babylonpodject
Help us keep the lights on via our Patreon!
Justen can be found at @justenwrites
Ana can be found at @The_Mianaai, and also made our show art.
Both Ana and Justen can also be found on The Compleat Discography, a Discworld re-read podcast.
Jude Vais can be found at @eremiticjude. His other work can be found at Athrabeth - a Tolkien Podcast and at Garbage of the Five Rings.
Music: The Horror Maschine 1 by Sascha Ende
Free download: https://filmmusic.io/song/43-the-horror-maschine-1
Licensed under CC BY 4.0: https://filmmusic.io/standard-license
This show is edited and produced by Aaron Olson, who can be found at @urizenxvii