S2E49 - I don't fuck with ET
S5E10: The Day the World Went Away S5E11: Synechtecy YES WE ARE EXCITED ABOUT THE B5 NEWS
6 months ago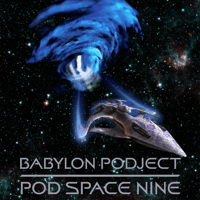 S5E10: The Day the World Went Away
S5E11: Synechtecy
YES WE ARE EXCITED ABOUT THE B5 NEWS.
The Day the World Went Away: Nobody really dies while the Machine is there? Minigun shenanigans. More needle drop appreciation. The ultimate mundanity of death. Fusco gets a yellow box. Dark Harold. Root and Shaw flirting during a gunfight is pretty much the peak of their relationship. Every teacher has had THAT student. "If we're just noise in the system, we might as well be a symphony.
Synecdoche: Rest in peace, cocoa puffs. Poor Shaw. The President--irrelevant? New Machine Team! Only fictional billionaires are good. It's nice to know that what you're doing matters. A side trip into hating ET for some reason. Far too long of a discussion about bombs in fridges.
Connect with the show at @babylonpodject
Help us keep the lights on via our Patreon!
Justen can be found at @justenwrites
Ana can be found at @The_Mianaai, and also made our show art.
Both Ana and Justen can also be found on The Compleat Discography, a Discworld re-read podcast.
Jude Vais can be found at @eremiticjude. His other work can be found at Athrabeth - a Tolkien Podcast and at Garbage of the Five Rings.
Clips from the original show remain copyrighted by their original rightsholders, and are used under the Fair Use doctrine.
Music is by Arne Parrott, who can be found at http://atptunes.com/
This show is edited and produced by Aaron Olson, who can be found at @urizenxvii