Coming next week: PodSpace 9
Your last stop for trash in the Alpha Quadrant
26 days ago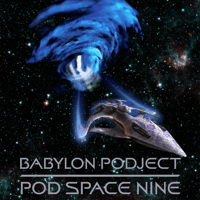 Episode Notes
This is now a Star Trek podcast.
Yes, after covering JMS's one-sided slapfight with DS9, we are now covering DS9. Get ready for lots of warcrimes airhorn.
BabSpace9 is a production of the Okay, So network.
Connect with the show at @babylonpodject
Help us keep the lights on via our Patreon!
Justen can be found at @justenwrites
Ana can be found at @The_Mianaai, and also made our show art.
Both Ana and Justen can also be found on The Compleat Discography, a Discworld re-read podcast.
Jude Vais can be found at @eremiticjude. His other work can be found at Athrabeth - a Tolkien Podcast and at Garbage of the Five Rings.
Clips from the original show remain copyrighted by Paramount Entertainment and are used under the Fair Use doctrine.
Music attribution:
Original reworking of the Deep Space 9 theme by audioquinn, who stresses that this particular war crime is not their fault.
This show is edited and produced by Aaron Olson, who can be found at @urizenxvii
Find out more at http://babylonpod.page