S2E45 - A Polyester Bowling Shirt
S5E01: BSOD S5E02: SNAFU
7 months ago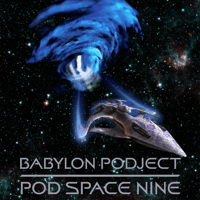 BSOD: Team Machine is on the run, and we've split the party! This is a high stakes, high tension episode. Fusco may have crossed the threshold where knowing about the Machine might finally be safer. Remember PS3 supercomputers? A diversion into linguistics.
SNAFU: We get a Freaky Friday! Somehow it works! We continue to stan Amy Acker. We also get a long diversion into the complex dynamics of indoor shoe-wearing.
Connect with the show at @babylonpodject
Help us keep the lights on via our Patreon!
Justen can be found at @justenwrites
Ana can be found at @The_Mianaai, and also made our show art.
Both Ana and Justen can also be found on The Compleat Discography, a Discworld re-read podcast.
Jude Vais can be found at @eremiticjude. His other work can be found at Athrabeth - a Tolkien Podcast and at Garbage of the Five Rings.
Clips from the original show remain copyrighted by their original rightsholders, and are used under the Fair Use doctrine.
Music is by Arne Parrott, who can be found at http://atptunes.com/
This show is edited and produced by Aaron Olson, who can be found at @urizenxvii