S2E46 - An entire Crate and Barrel
CW: 6,741 contains graphic depictions of non-consensual surgery and suicide, so if that's a problem you're safe to listen through around 19:30. S5E3: Truth Be Told S5E4: 6,741
6 months ago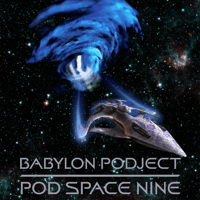 CW: 6,741 contains graphic depictions of non-consensual surgery and suicide, so if that's a problem you're safe to listen through around 19:30.
S5E3: Truth Be Told
S5E4: 6,741
Keith David Appreciation Club
Truth Be Told: TGI Blackbeard's? John does The Worst version of the "on two dates" trope. We actually run into surprisingly few characters who are not related to people John and Kara killed. The end of the boner music!
6,741: Hoo boy. We're happy to see Shaw but gosh. root u-hauls Sameen around 40 minutes after finding her (or at least that's what Shaw wants). No kneecaps? That's a simulation for sure. Lesbian Death Bed Trope lampshaded and subverted, kinda.
Connect with the show at @babylonpodject
Help us keep the lights on via our Patreon!
Justen can be found at @justenwrites
Ana can be found at @The_Mianaai, and also made our show art.
Both Ana and Justen can also be found on The Compleat Discography, a Discworld re-read podcast.
Jude Vais can be found at @eremiticjude. His other work can be found at Athrabeth - a Tolkien Podcast and at Garbage of the Five Rings.
Clips from the original show remain copyrighted by their original rightsholders, and are used under the Fair Use doctrine.
Music is by Arne Parrott, who can be found at http://atptunes.com/
This show is edited and produced by Aaron Olson, who can be found at @urizenxvii