S2E42 - A certain amount of root
S4E17: Karma S4E18: Skip
7 months ago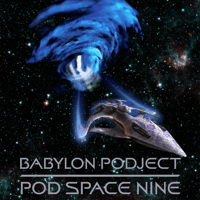 This is not a star trek podcast. Justen forgets our favorite Telepath. A coughing break was edited out for your convenience.
Karma: 2010 Retro Finch, Digital Vigilante--the Harold version of a rampage. Therapist Listening Posture. We continue to hate the John-therapist plotline and spend a long time decomposing it. This episode does Fusco dirty.
Skip: A really intense Harold/root episode. Discount Natalie Dormer? We wish it had been Shaw instead of Reese. We fantasize about episodes we don't get.
Connect with the show at @babylonpodject
Help us keep the lights on via our Patreon!
Justen can be found at @justenwrites
Ana can be found at @The_Mianaai, and also made our show art.
Both Ana and Justen can also be found on The Compleat Discography, a Discworld re-read podcast.
Jude Vais can be found at @eremiticjude. His other work can be found at Athrabeth - a Tolkien Podcast and at Garbage of the Five Rings.
Clips from the original show remain copyrighted by their original rightsholders, and are used under the Fair Use doctrine.
Music is by Arne Parrott, who can be found at http://atptunes.com/
This show is edited and produced by Aaron Olson, who can be found at @urizenxvii